You are here: Products
Galvanized Steel high Tensile Fence

Made of high tensile wire, this kind of fence is strong for breeding animals.
Fence Height: 0.8m,1.2m,1.8m,2.0m.
Galvanized high tensile fence is mainly used for Field Fence/Cattle Fence/ Sheep Fence/Stock Fencing/Deer Fencing/Deer Wire Netting.
1. Materials:
a) Electro galvanized iron wire
b) Hot dipped galvanized iron wire
c) High Tensile Steel Wire
d) PVC Painted Wire.
2. Structure: hinged joint Knot, ring lock knot.
3. Roll size: supplied in 50m and 100m length.
4. Specifications:
Wire Diameter: Gauge Top and Bottom 3.00mm, Intermediates 2.5mm
5. Applications:
For forest safety fence,
For breed sheep , goats ,cattle.
For football or basketball sprotsground.
For prevention stone falling of road side.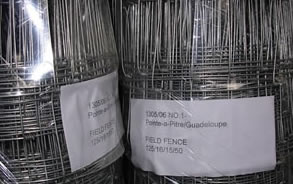 Fence
Design

Height

Vertical
Stay
Spacing

Roll
Length

Top
& Bottom
Wire Dia.
(SWG)

Filler
Wire
Dia.
(SWG)

Roll
Weight

Finished

8/32/6

32"

6"

330'

10g

12.5g

147lbs

Electro
or
hot-dipped
galvanized

9/39/6

39"

6"

330'

10g

12.5g

170lbs

10/47/6

47"

6"

330'

10g

12.5g

194lbs

9/39/12

39"

12"

330'

10g

12.5g

130bs

10/47/12

47"

12"

330'

10g

12.5g

147lbs

9/39/6

39"

6"

330'

9g

11g

246lbs

10/47/6

47"

6"

330'

9g

11g

280lbs

10/47/12

47"

12"

330'

9g

11g

209lbs

10/47/6

47"

6"

330'

9g

9g

417lbs

10/47/12

47"

12"

330'

9g

9g

311lbs