You are here: Products
Low Carbon Hinge Joint Fence

Galvanized knotted fence is made of low carbon steel wire in the opening of 5x10cm, 5x7cm.

Material: Steel wire with high strength, with zinc coating layer and without, graduated steel wire mesh knotted field fence is suitable for borders in fields and grassland for breeding of deer, cattle and other animals.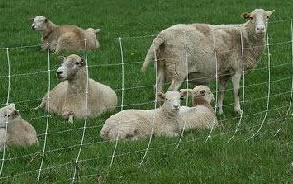 Features: Hinged knot fence is simple in structure, easy maintenance, short installation period, less weight, easy for transport and easy ventilation, details as following:

Commercial zinc coating before manufacturing to resist rust and corrosion
Hinge joint style twist
Versatility
Tension Curve Helps maintain fence uniformity despite temperatures rise and fall
Soft wire and high tensile strength wire available
A variety of heights, hole mesh, spacing and styles offer for more choices
Livestock confinement for cattle, hogs, sheep, goats or other large animals
Application: Grassland, breeding, forestry, site fencing, isolation of sites or projects.